About Bennett Enterprises LLC
Founded by David and Milton Bennett, the first FRISCH'S BIG BOY restaurant in Northwest Ohio was opened in Perrysburg, Ohio. Big Boy units were built in and around the Toledo area in Lucas County. We currently own and operate 13 Frisch's Big Boy Restaurants located throughout Northwest Ohio. We are a franchisee of the Frisch's restaurant organization in Cincinnati, Ohio.
Bennett Enterprises also owns and operates hotels and restaurants including French Quarter hotel in Perrysburg, Ohio, Hampton Inn in Maumee, Quality Inn in Perrysburg, Ohio, Quality Inn in Monroe, Michigan J. Patrick's, Bruno's Lounge and six Ralphie's Sports Eatery locations.
Through the years Bennett Enterprises has pursued a strategy of owning the underlying real estate for its restaurant and hotel operations. As a result of pursuing and owning real estate for it's businesses, real estate development is part of what Bennett does. Bennett Enterprises is landlord to Barnes & Noble on Monroe Street which opened in 1994. In 1997, we developed the two Toledo Area Circuit City locations. In 2012, the former Circuit City on Monroe Street was leased to Jo Ann Fabrics. Bennett also holds undeveloped property on Airport Highway, Alexis Road, Reynolds Road and in Rossford, Ohio at the Crossroads of America.
Bennett Enterprises has been around for sixty years following these four basic concepts: (1) be a good company to work for, (2) be a good company to sell to, (3) be a good company to buy from, and (4) be a good neighbor to the community.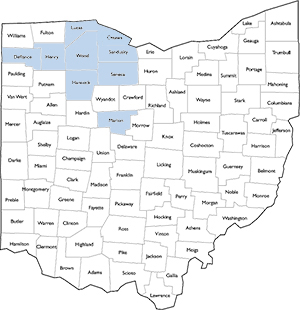 Bennett Enterprises has become the largest restaurant and hotel owner/operator in Northwest Ohio.
We are the largest hospitality employer in the greater Toledo area and Northwest Ohio. Serving Lucas, Defiance, Henry, Wood, Hancock, Sandusky, Seneca and Marion Counties.
Timeline
1967
We became a Holiday Inn® franchisee with our first location being the Holiday Inn® French Quarter located in Perrysburg, Ohio. After construction was complete at the French Quarter, Bennett Enterprises built their second Holiday Inn in Monroe, Michigan.
1981
We purchased the former Ramada Inn located at the Southeast corner of I-75 and Route 20 in Perrysburg, Ohio. The Ramada was converted to a Holiday Inn. This location sits across the street from the Holiday Inn French Quarter. In the Spring of 1996 renovations began to convert the existing Core Brand Holiday Inn I-75 into a Holiday Inn Express and Conference Center. Holiday Inn Express is a limited service property. They do offer a free continental breakfast to all guests each day. The other uniqueness our Holiday Inn Express possesses is the fact that it is one of only a half dozen Holiday Inn Express hotels that features a Conference and Meeting Center. There is 5,000 square feet of meeting space at the Holiday Inn Express and Conference Center. Renovations were completed at this location in the Fall of 1996.
1987
Bennett Enterprises became interested in yet another hotel venture. Bennett acquired franchise rights to build and operate a Hampton Inn®, the first of its kind in the Toledo Metropolitan area. Bennett's first Hampton Inn opened in July of 1987 and is located on Reynolds Road in Maumee, Ohio. The Hampton Inn is a limited service hotel. They do offer a free continental breakfast to all guests each day.
1991
Due to some structure changes within Bennett Enterprises a handful of Company owned restaurants sat idle, each possessing a fistful of potential. With these unoccupied parcels in mind, the Ralphie's Sports Eatery concept evolved. The first location opened in Oregon, Ohio in December of 1991. As this location proved successful, Ralphie's Maumee opened in May of 1992. The Ralphie's saga continued as additional units popped up in Northwestern Ohio. Ralphie's Perrysburg, Ohio opened in December of 1992. Our Ralphie's located at the corner of Monroe and Flanders in Toledo, opened in October of 1995. This restaurant was relocated to the Starlite Plaza in Sylvania, Ohio in March 2006. Our Ralphie's in Marion, Ohio opened in December of 1996. Our Ralphie's located in Findlay, Ohio opened in April 1998 and our Lima Ralphie's opened in July of 1999. In 2015, our Findlay location moved to Trenton Ave and our Sylvania location was remodeled.
2001
Holiday Inn Monroe was renovated and branded as the Holiday Inn Express & Suites.
2010
In December, the Holiday Inn & Suites in Monroe became the Quality Inn & Suites.
2015
In December, the Holiday Express in Perrysburg became a Quality Inn.
Locations Map for all Bennett owned and operated businesses.